The 2018 Diligentia Great Hakka Get Together
On 9th Feb, 2018, the Great Hakka Get Together was hold in Diligentia courtyard. Combining potluck and reunion lunch, this event carried best wishes from college to every student.
Under the theme of Hakka dim sum, the 10th Diligentia Potluck and Great Hakka Get Together was hold on the last school day of the lunar year 2017. The Hakka had prepared all ingredients and kitchenware to make dim sum, including rice balls mixed with glutinous rice flour, indica rice flour and water.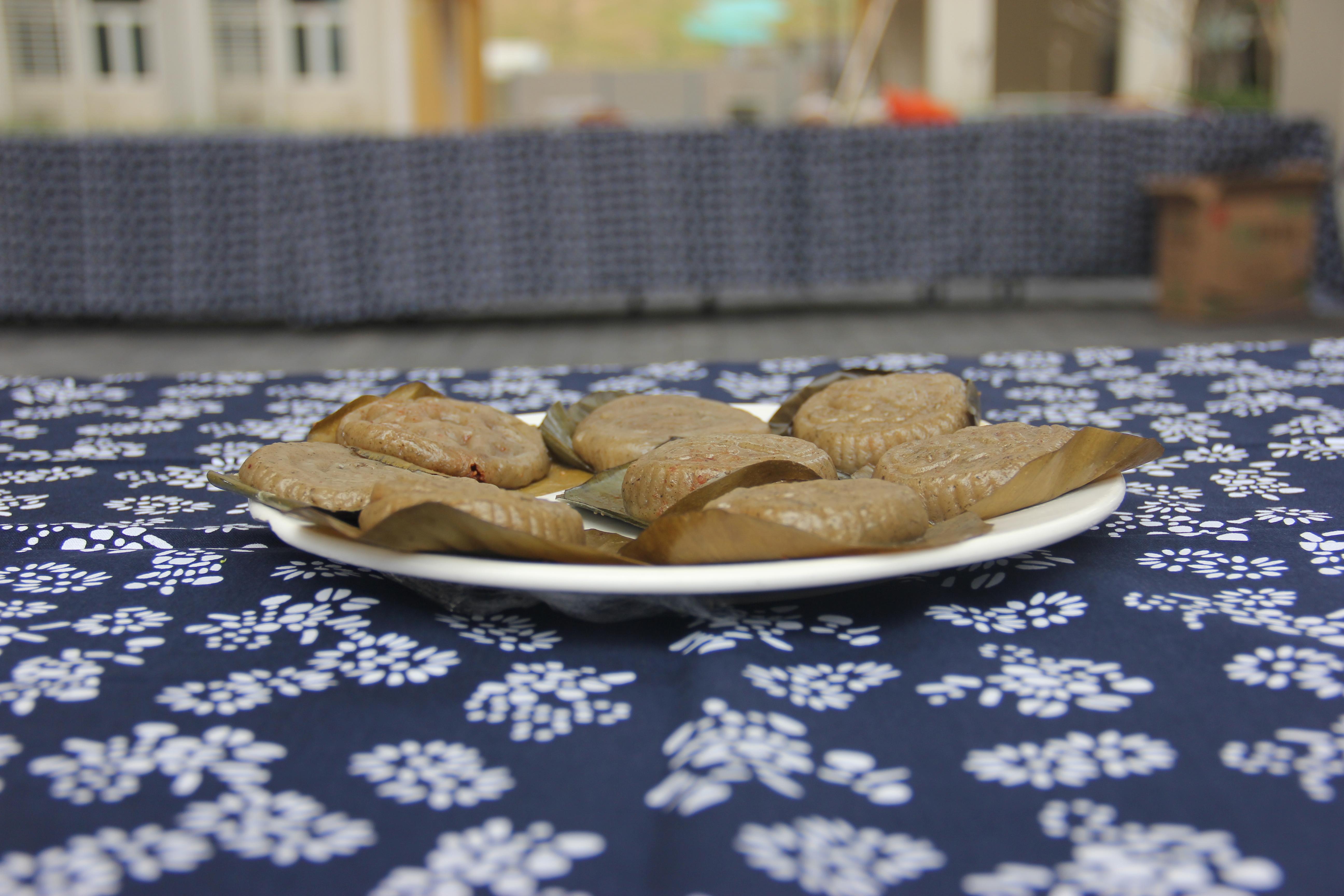 Glutinous Rice Cake · Caozaiguo · Lo Pet Ban (Daikon Radish Dumplings)
These three dim sum's wrappers are made by rice, while Caozaiguo's wrappers are mixed with Chinese mugwort. You could find the herbs fibers gave the finished kuih a brownish green color.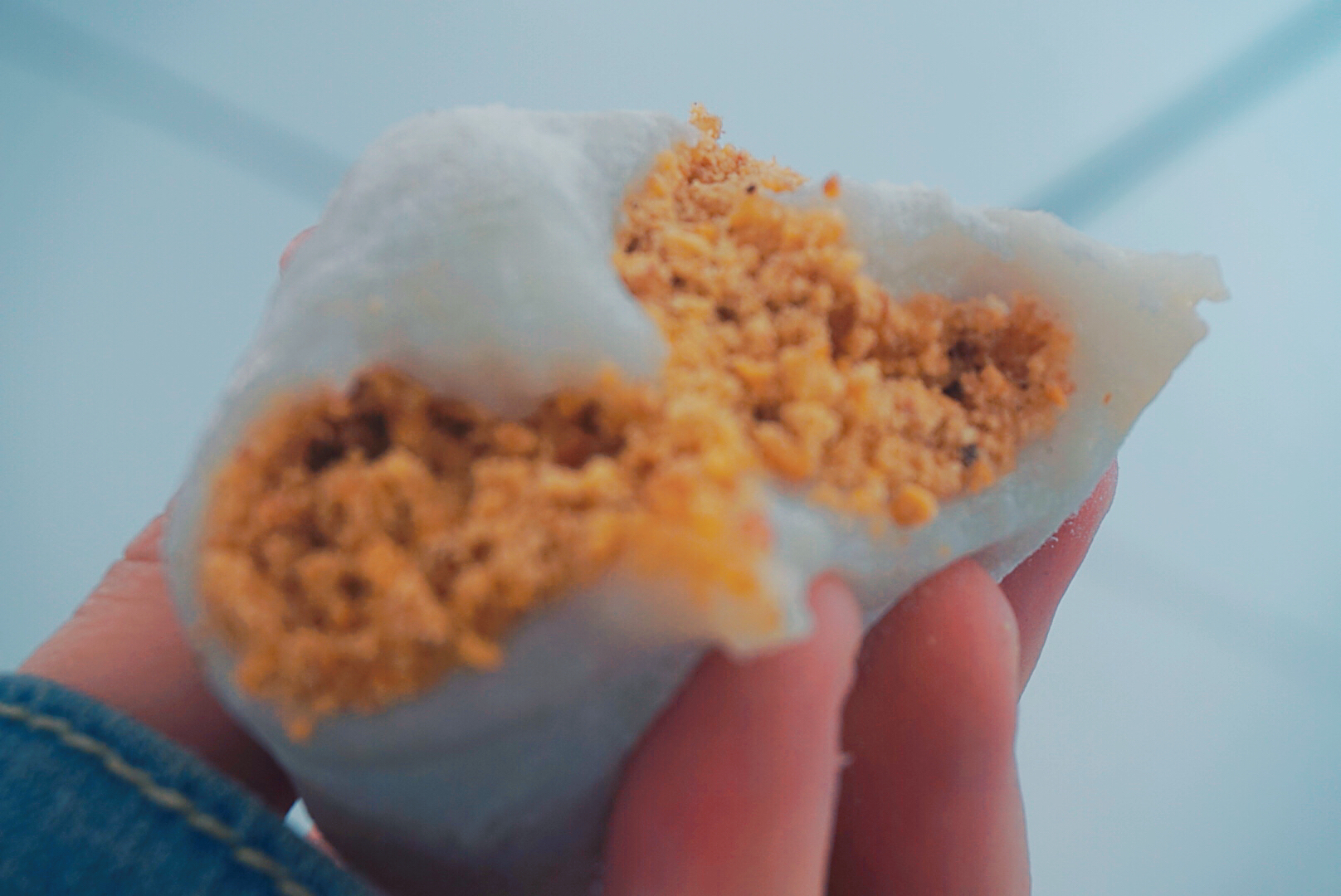 Fillings of glutinous rice cake are crushed peanuts and sesame fried with brown sugar. Just as making steamed stuffed buns, you hold the rice cake in one hand with curved fingers, thumb on the stuff, kneading the opening with the other hand. They are ready-to-eat when you finished the DIY, as all ingredients were cooked. Rich tastes unfold in your mouth when glutinous wrapper meets crushed peanuts and sesame.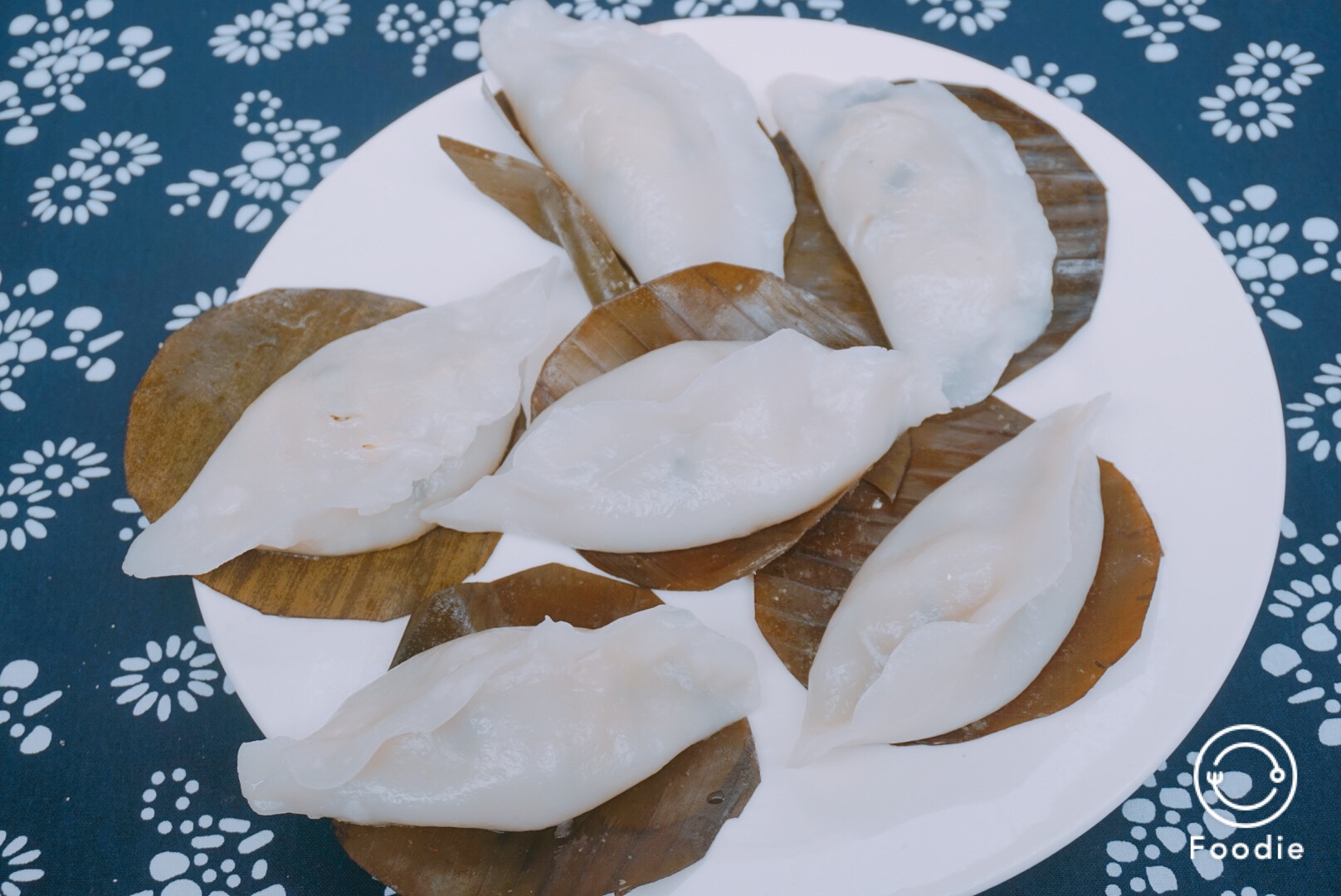 It is up to you whether to stuff a Caozaiguo before shape it in a wooden mold. While lo pet ban has a specialized filling: fried turnip strip, lean and shrimp with spring onion. You could shape it like a dumpling or a ball. We wore gauze masks and disposable gloves, lining up around tables, making dim sum and chatting, just like preparing a reunion dinner with family members.
The reunion lunch
Red carpets lying on the courtyard, dining-tables were covered with red cloth. Students were crowded tasting Hakka dishes. In the opening speech, Prof. Pan Wenan said as a Hakka, he understands how wonderful the Hakka culture is, even the only Hakka word he knows is "dining".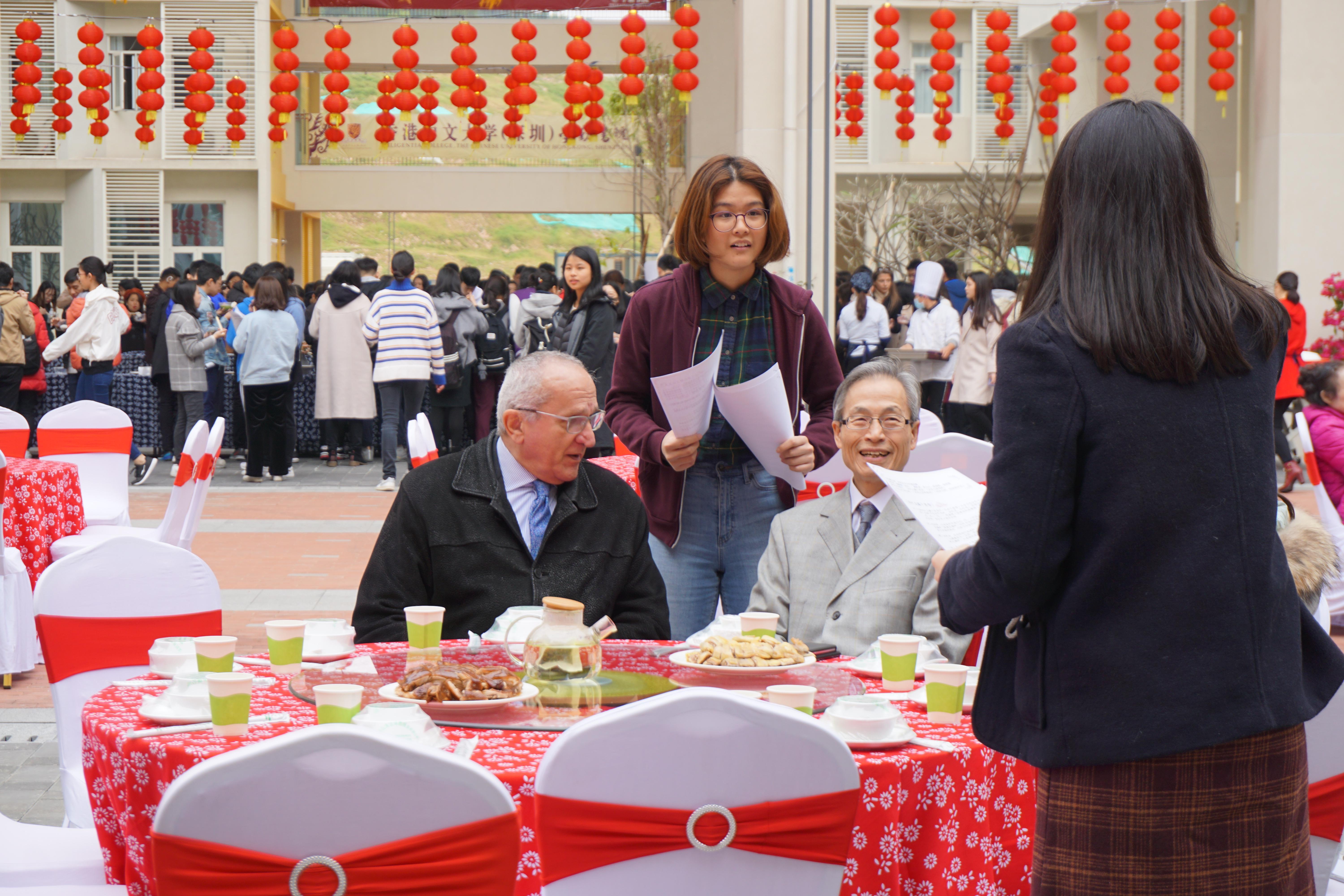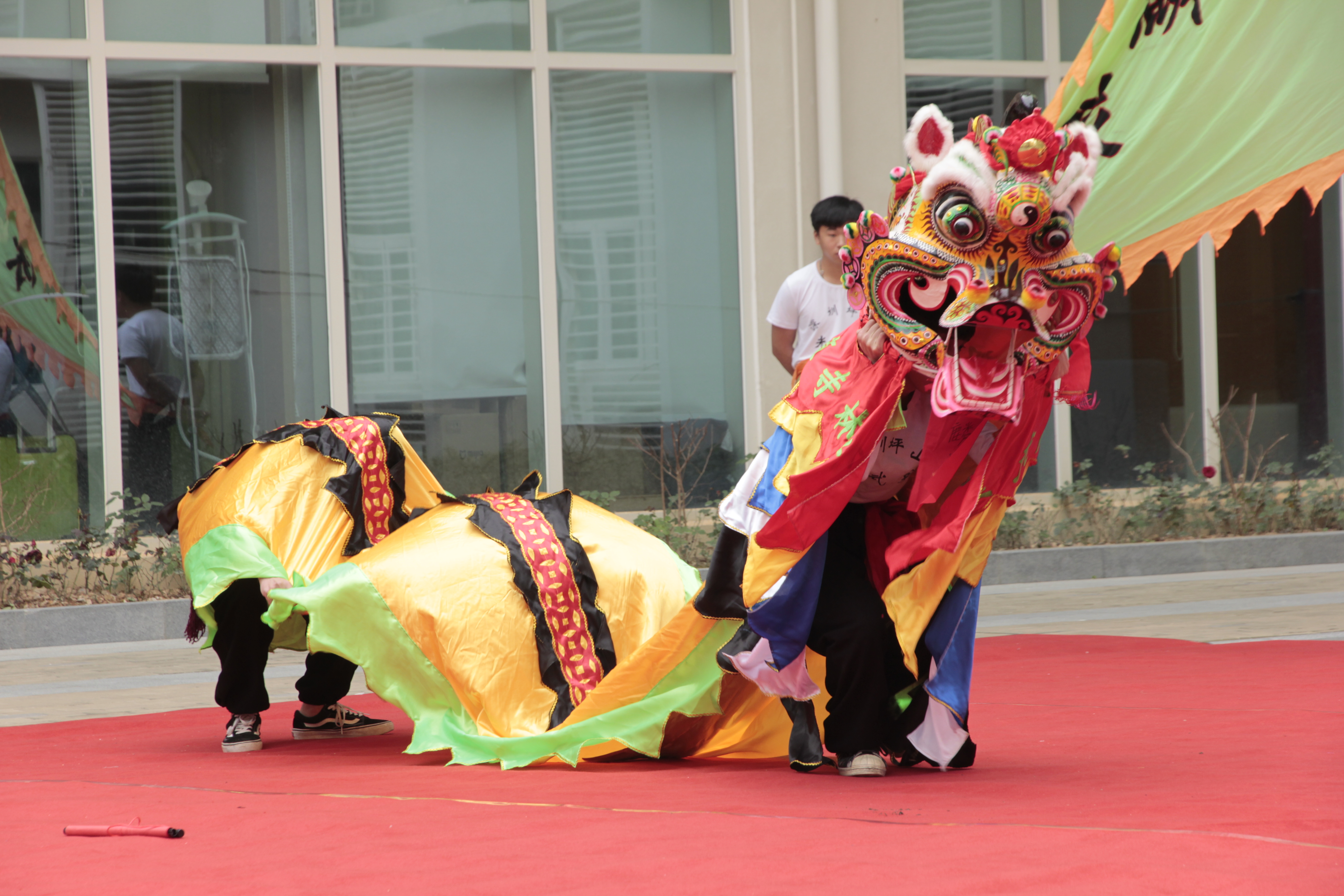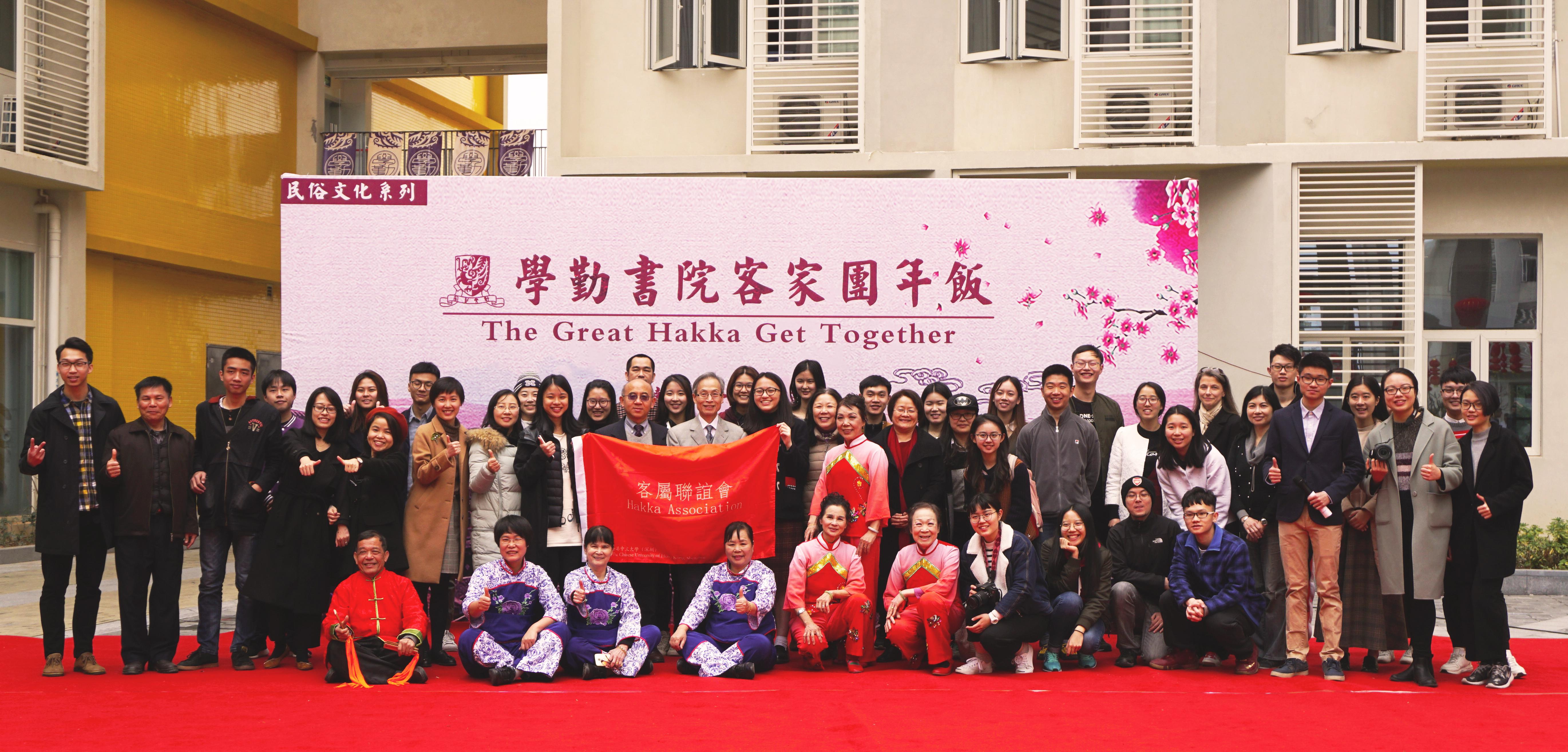 Hakka Kylin dance was performed with gongs and drums, just like the traditional spring festival gathering. Two Kylins hold a couplet, sending New Year Greetings then passed the couplet to Mr. KC Yuen, vice president of CUHKSZ and Prof. Seade.
Comments
I quite enjoyed the Hakka feast and performances. As a northerner, I fell in love with the glutinous rice cake! The gloomy winter is lighted up by red packets and gifts from teachers and enthusiastic Hakka.
----Zhi Yiying (SME)
As the president of Hakka Association, I know all the hard works behind this successful event. We turned an idea to an event. Generally, I was quite satisfied with it even there were much room for improvement. We hope you could have a glance at the Hakka culture and Shenzhen local culture through our effort. At the same time, we wish this activity would inspire more people to explore our origins and devoted into the culture communication.    
 ----Huang Jiajun (President of Hakka Association)
We had tasted traditional Hakka delicacies, customs and cultures in the Great Hakka Get Together. It was a special event.
----Shi Xiyang (HSS)
Nowadays, Hakka are busy working in big cities. We seldom back to hometown except for the Spring Festival or other holidays. It seems like all Hakka are one family. The Diligentia Hakka dishes brought my homesick back and I am ready heading home.
----An anonymous Hakka
I was so excited about the Great Hakka Get Together on the last school day in the lunar year 2017. I rush to the courtyard in the morning with my roommate, who just got up. It was flooded with people, and someone passed me a paper with the ongoing Hakka folk song's lyrics, in case we do not understand Hakka dialect. Tempting pork ribs, roast chicken, tofu and bean vermicelli are lined up on the tables. While Lei Cha (Hakka pounded tea) left me a deep impression because I had never tasted it before. My curiosity was intrigued by this Kelly green tea. You should add peanuts and beans into the tea then grind them before drink – not bad, it tastes like vegetable soup. By name, I thought Lei Cha was a beverage, while it is more of a course. Thanks to all staffs for Hakka dishes and wonderful performances! It was an unforgettable lunch!
---Qu Zhiqing (SSE)
Hakka feast and Hakka folk songs touched my heart in this cold winter. The glutinous rice cake brought us back to traditional custom and memories about the Spring Festival, when every family members get together. Best wishes for the coming Chinese New Year!
----Chen Haoxin (SSE)
It was a bustling feast, just like the New Year's day in a small Chinese village, where everyone get together in that day. The glutinous rice cake was incredible delicious! Soft textures melt with peanuts fillings in mouth. Hakka dishes made our day in this bitter winter!
----Angela (tutor, Block A, Diligentia College)
On the last school day in lunar year 2017, college prepared a grand feast for us. We made traditional dim sum with Hakka aunts in the morning, enjoyed Kylin dance, Hakka folk songs and Hakka delicacies during lunch. It was a special celebration for Chinese New Year. Thanks to all staffs, students, performers and Hakka Association, Love you all! Happy Chinese New Year!
----Chen Yintian (SSE)
As the Chinese New Year is around the corner, we are longing for the homemade food. The Great Hakka Get Together was just in time, I can't wait any longer! I almost taste all dishes at one go and tried my favorite dishes twice. No space left for dinner. The last sweet fluffy steamed sponge cake reminded me of my hometown and that's the taste of Chinese New Year!  
----Liu Jiaqi (SSE)