Diligentia et Sapientia | College Life and Spirit
On April 25th, 2017, Diligentia College invited Prof. Xu, the President of CUHK (SZ) to share to students in 8th Diligentia et Sapientia college life and spirit as well as how to deal with people and things and to seek knowledge in our college life.
He is far away from and also close to us. He may be the very person who knows the university and its development best. As the semester is ending and the days to move to upper campus are approaching, we have invited President Xu, the first person living in the upper campus to share college life and spirit as well as his life philosophy with us. Before renew their minds, each student was offered exquisite desserts to fill their stomachs in order to digest the following talk.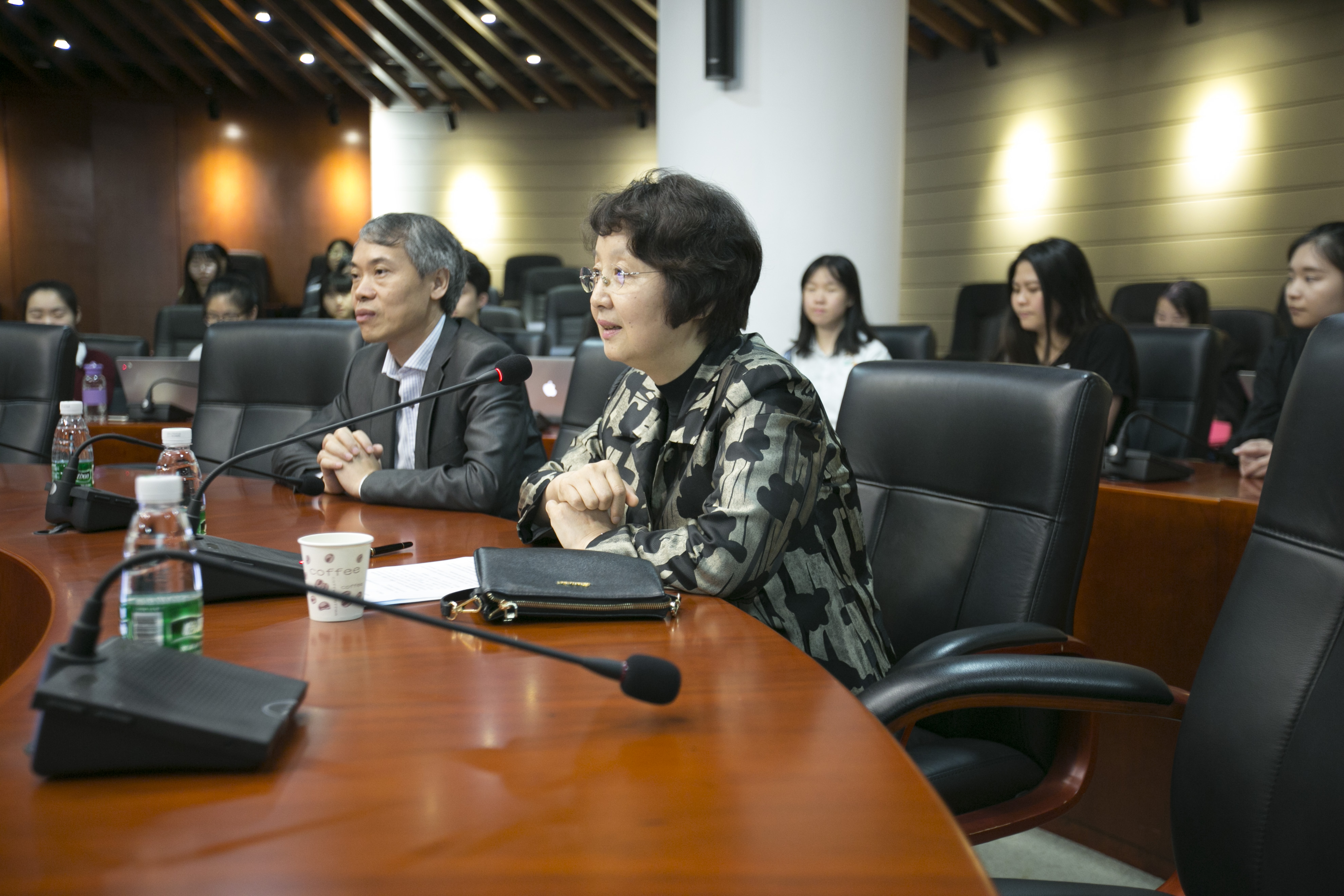 At the beginning of Diligentia et Sapientia, Prof. Gu briefly concluded the achievements made by Diligentia College during the past one year or so. What the College promotes has always been instructing students in their daily routines, and from five dimensions, namely a sense of belonging, a sense of ownership, the spirit of innovation and entrepreneurship, pluralist views and the social responsibility, the College has held various group activities inside and outside of the university. With the rapid development of the College culture, the construction of Diligentia College has never stopped. How the upper campus is like now and how should we complete ourselves to run the College properly? 
When knowing the university's upper campus lies on the other side of the mountain, students of Diligentia College started to call themselves "the elves in the mountain". Some students are worried about the long distance to the teaching block, while in President Xu's unique interpretation, people along with a mountain can become the immortal. In his description, mountains have anima, and the upper campus constructed beside a mountain will be a beautiful and peaceful place warm in winter and cool in summer and full of fresh air and with the petals of jacaranda covering the roads. The roads that arouse students' concern from the upper campus to teaching blocks are under construction and design; hopefully at this time next year, it will be satisfactory for students.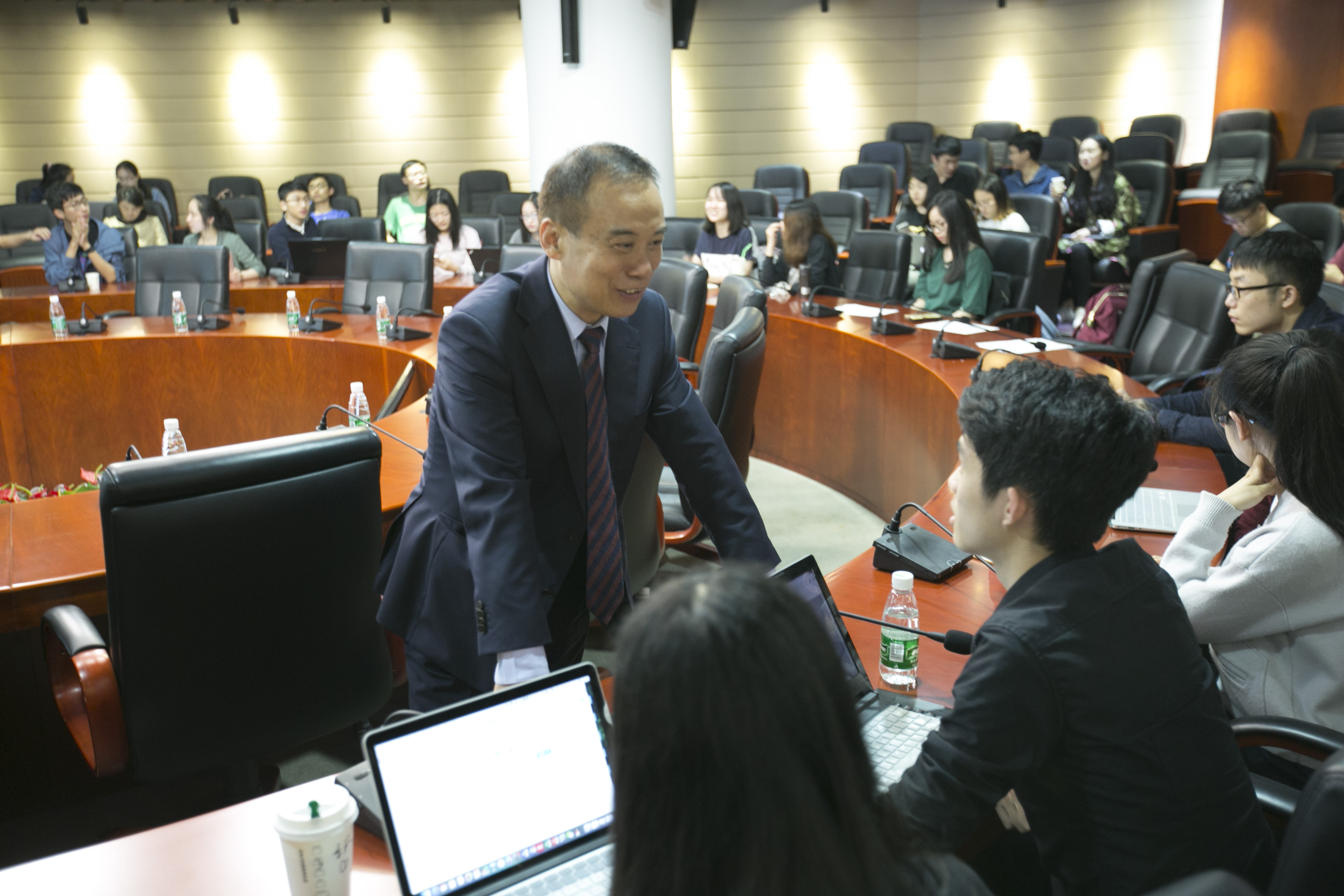 Then President Xu referred to another topic, saying that talents are most significant in the construction of a college. What is a college for? Why do we need to build a college? In President Xu's mind, a college should not simply be a place to live; rather, it should be a place to make friends, to learn to behave, and to develop new ideas. If we say schools are the places for knowledge, then colleges are for culture, on which President Xu has put emphasis. The concepts of "culture" and "knowledge" should be distinguished. Knowledge means the understanding towards one profession, while culture is closer to one's mental outlook, which can be seen when he or she is dealing with people and things. Colleges provide us with more opportunities to reach people with different cultural backgrounds; meanwhile, living in colleges, we can also make continuous progress. Just as President Xu put it, there will be a ceiling beyond everyone's reach; however, we can try to jump to reach somewhere every day until some day, we get to where we try to reach.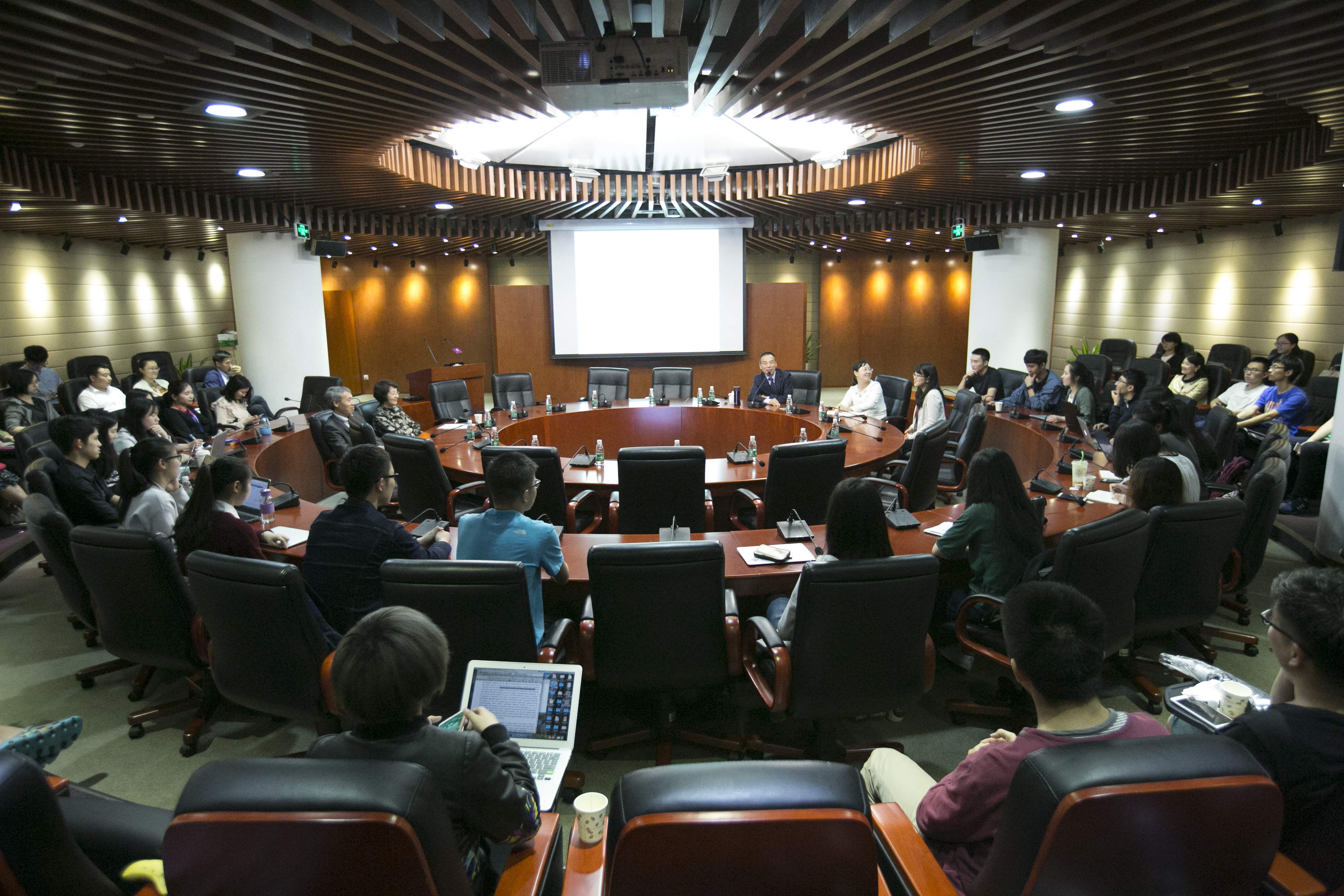 Then, from the perspective of "people", President Xu discussed with us about the recipe of success, in other words, why one can succeed. The answer is to train our heart and to get to control our own fate. The world reflects our inner world. If your heart is only the size of a fist, then you will cling to rumors and gossips rather than big deals. You can never achieve much in good times. Laziness leads to failure as tested by mediocre people since the old times, and the failures of those talented people are all triggered by arrogance. As we are now at our young age, the paths we choose are not necessarily that realistic. However, as the old saying goes, he who does not have a strong will can never achieve high intelligence. Goals you set are not necessarily high, but strong will is a must in order to achieve your goals. Only with a strong will can you accomplish something significant without easily being distracted. As leaders, you need to figure out what to do and who to do it and to take responsibilities. When others are active, you should cool down; while others talk, you'd better to listen. Be delighted to your current position and wait for fate. Get along with others and be righteous. When dealing with people, be loyal to your superiors, show humility to your peers and love to your inferiors. To make friends with others, one needs the spirit of brotherhood, and be modest--do not take credit even if you have made great contributions. When dealing with things, President Xu suggested making a list every morning, prioritizing the most important and difficult. Do not rush to deal with urgent things, but no procrastination in any cases. When experiencing angry and great joy, one should control his or her moods before trying to cope with anything. You should first consider whether you want to do it before thinking of how to do it. It's ok if you win, but it's better not to handle things you may not afford to lose. When talking, avoid talking nonsense unless it's useful (nonsense is something known by your listeners already). The talk should have a point and be target-based. When teachers acknowledge something is beyond their knowledge, students start to explore the answer. Talking or writing should be succinct (like making a will), topic-oriented and humorous. Living in this world, you should establish your own principles. Deal with things in accordance with rules and target at matters instead of certain people. Do not gossip or reveal others' secrets. Be responsible. Think about your responsibilities before anything. Make one's obligations targeted and clearer. You should have an assessment system indicating clearly who your responsibility is for.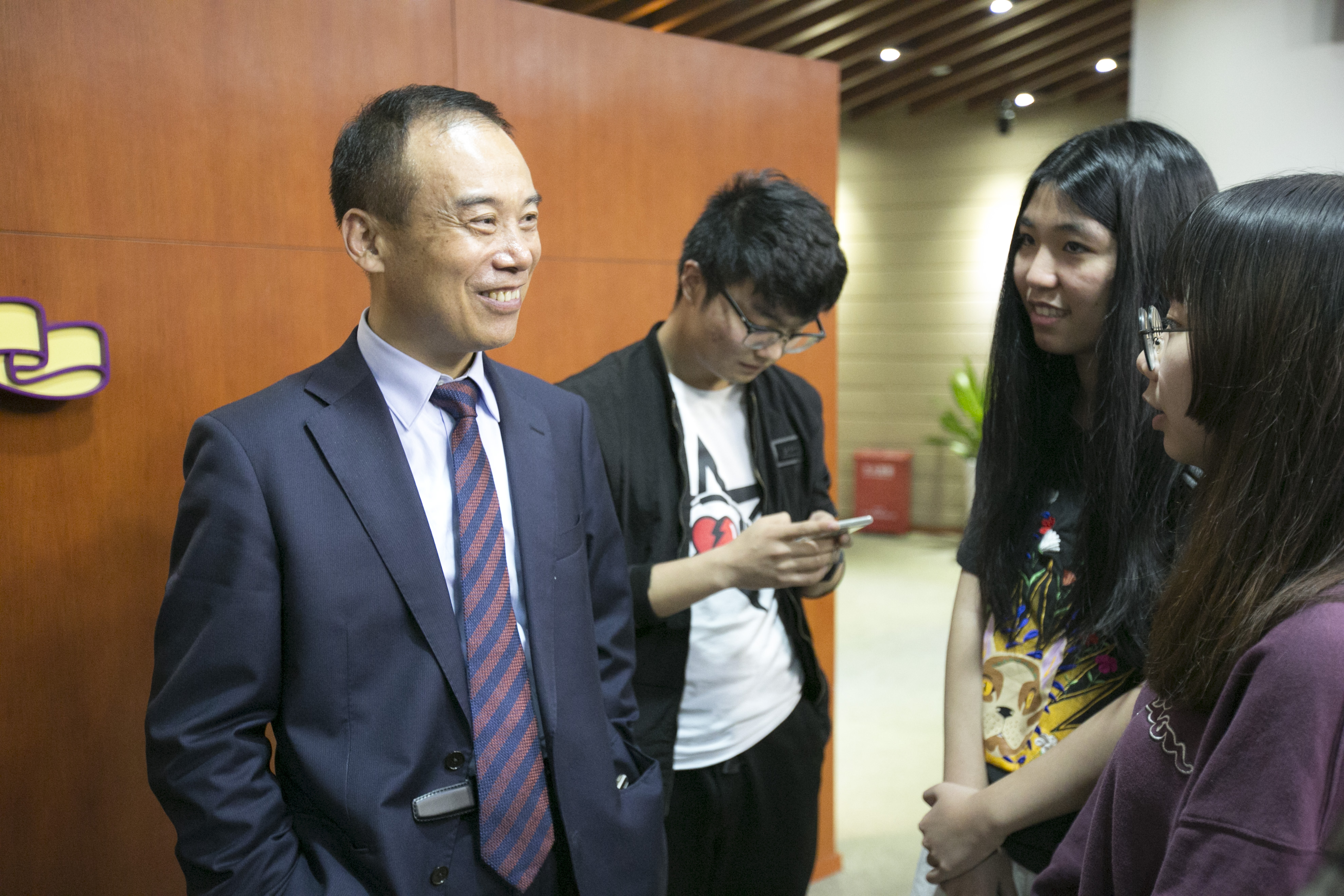 Q&A
Speaking of choosing majors, President Xu suggest students not to let their brain choose for them. At this point in time, brain is not sharp at all. Use brain to make decisions on small matters, while use heart on big. Sometimes, we tend to use brains to analyze pros and cons of different choices but forget the key is to follow your heart----which one you favor most and drives you to study? Everything becomes easier if you figure this question out. At the same time, do not link your current majors with your future. We should have the faith in ourselves, knowing that hero will always be the hero. In terms of how to cope with busy life, in Chinese character, the word "busyness" can be interpreted as "the death of a heart", meaning that people will feel busy as their hearts die, which is not a good status for anybody. It's inevitable to sometimes have a tight schedule, while besides those moments, we should spare some time to find our own interests, going to the concert or doing some sports. Anyway, we cannot turn our life into a dull one. Even in our tight schedules, we can still free our hearts. During the night talk, more time was spent in developing students "culture" than in discussing on the future of their college life. However, college culture is formed by individual culture of the students. The "elves" will move to a new place sooner. Let's hope that they can learn from President Xu's words and apply them into their daily routines in Diligentia College, with a brand-new outlook to embrace a more challenging future. We wish every talk cam bring you some insights. Diligentia College has never stopped moving forward, has you?